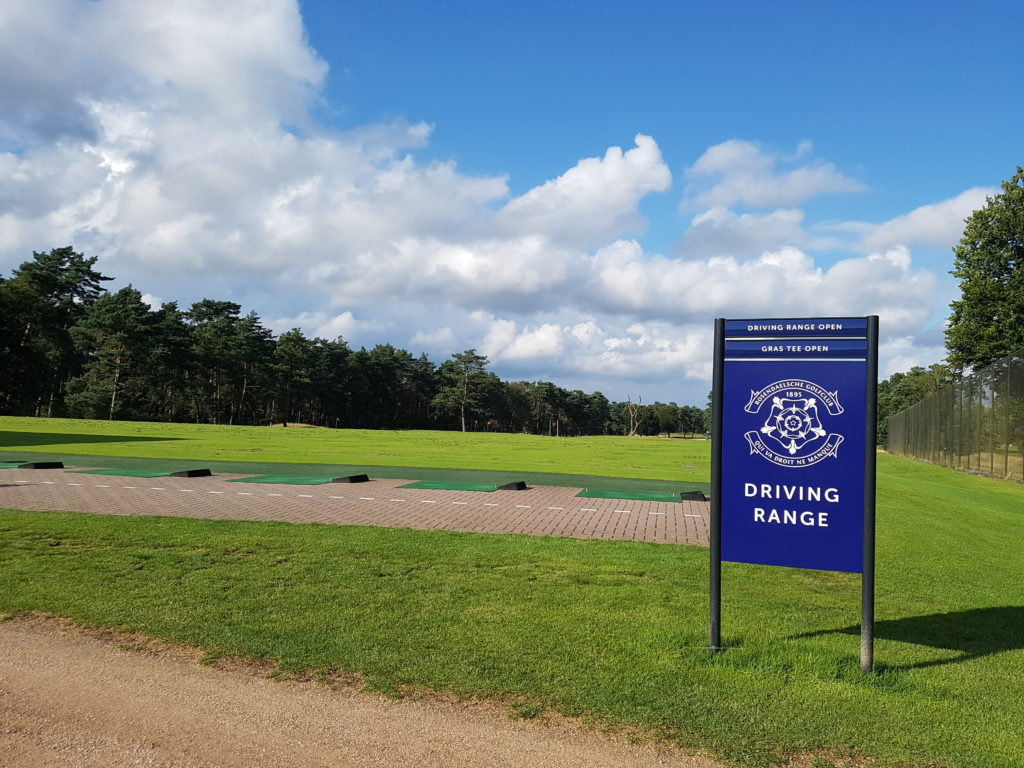 Exercise area
Driving range: This can be used from two sides. On the clubhouse side there is a covered area containing a section of the Golf Academy with advanced analysis equipment. You can practice from the driving range mats, but also from a carpeted area right in front of it. In front of it is an extensive grass tee; open on three days of the week. From the back of the driving range, you can practise additionally. The grass tee is open more often, and the uneven tee carpet is there to practice "ball over foot / ball under foot".
Bunkers: Greenside and fairway bunkers are located in separate parts of the practice area. All aspects of the bunker game can be practised here: different grooves, high/low bunker out, short/long strokes. The fairway bunker is located next to the driving range at the back; you can hit over 280 metres from there without hitting anyone.
Chipping greens: Both at the clubhouse side and at the back of the driving range there are two greens to practice chipping and pitching. They are maintained just as well as our "real" greens. Flags at different positions on the uneven green make chipping extra challenging.
Putting green: A large putting green, with all the challenges you will also find on our course. Just as well maintained and mowed as the greens of the 18-hole Championship Course.
Rough: At various places in the practice area there are pieces of rough from which you can practice: long shots next to the driving range; short game to the chipping greens.
Par3 practice holes: The ideal area to improve your short game. Short turns to small greens; a challenge to play all 4 holes "par", even if they are "only" 50 metres long.